Motorbike nerds sometimes share "ride reports", basically excuses to recount the details of your ride and post mediocre pictures of interesting places (ok maybe that's just me).  I expect to be writing these with some regularity, so if you find this boring you might just want to skip over future "ride report" categories.  This post is a combination of three rides I took recently while hanging out in Cincinnati, Ohio.  One followed the Ohio River to the east, one towards the rural heart of Ohio and one south into Kentucky.
Along the Ohio
The first ride meandered out east, dropping down into Kentucky and following the Ohio River along highway 8.  That quickly turns into a two lane road, passing through small towns and reverting back to a hilly, scenic journey with glimpses of the river to your left.  Kentucky is one of those states that thinks it's a great idea to just avoid using speed limit signs on rural highways so I have no idea what the speed limit is out there.  When you get to the end of a town and the signs say things like, "end 45 mph restriction."  How is that better than "XX mph"?  Kansas does the same thing but I've only ever seen it on gravel backgrounds (of which there are many) and one's maximum speed tends to be a bit constrained on those anyways.
Scooter posing in front of Beckjord Station.
Eventually I crossed the impressive William H. Harsha bridge near Ripley and into Ohio.  Here I followed highway 50 back up the river, stopping for a quick picture back of the bridge.
Bridge and air are not Marathon products.
The Ohio side of the drive is definitely on a more well traveled road but also has more sites to see.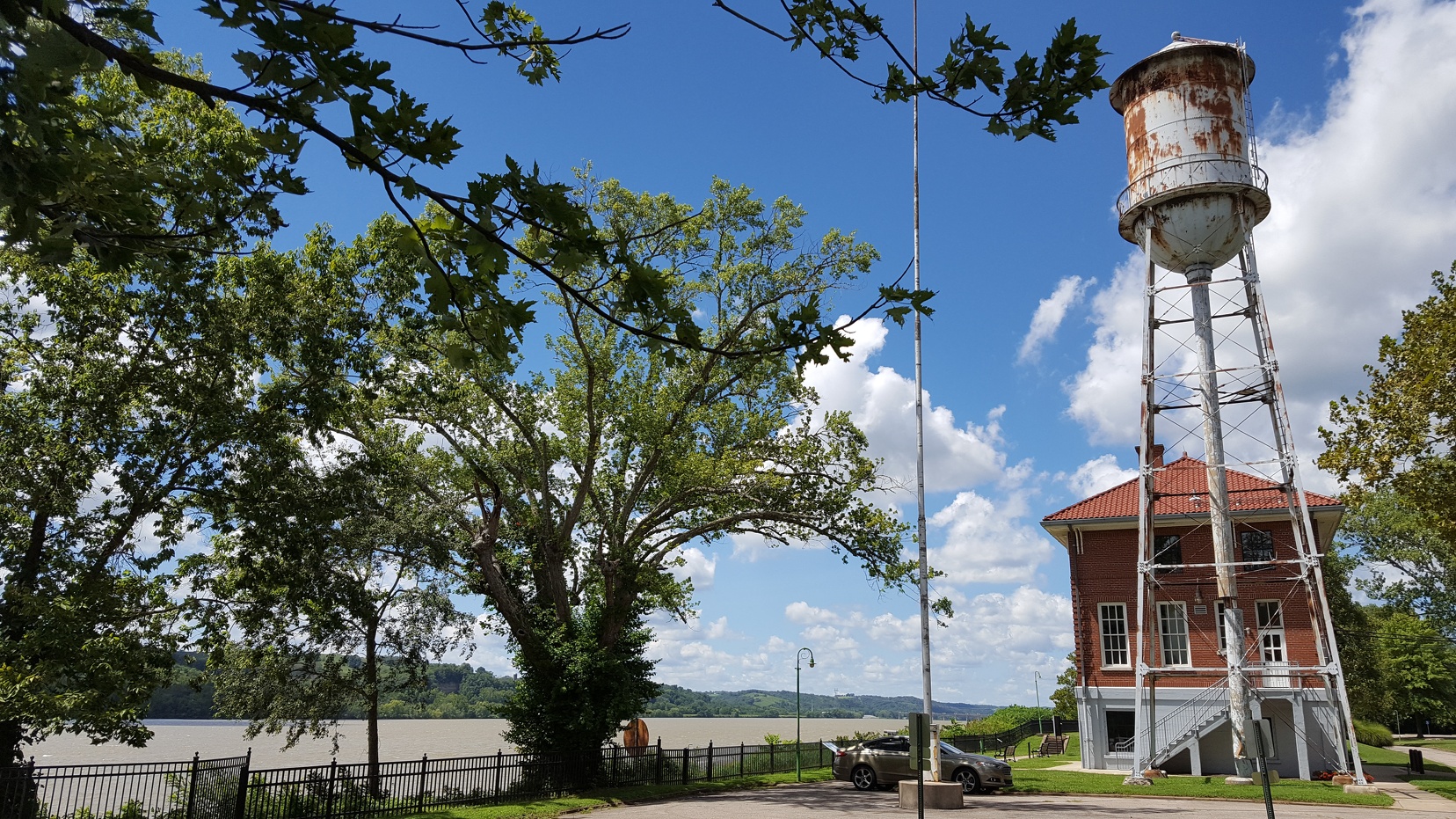 Lock 34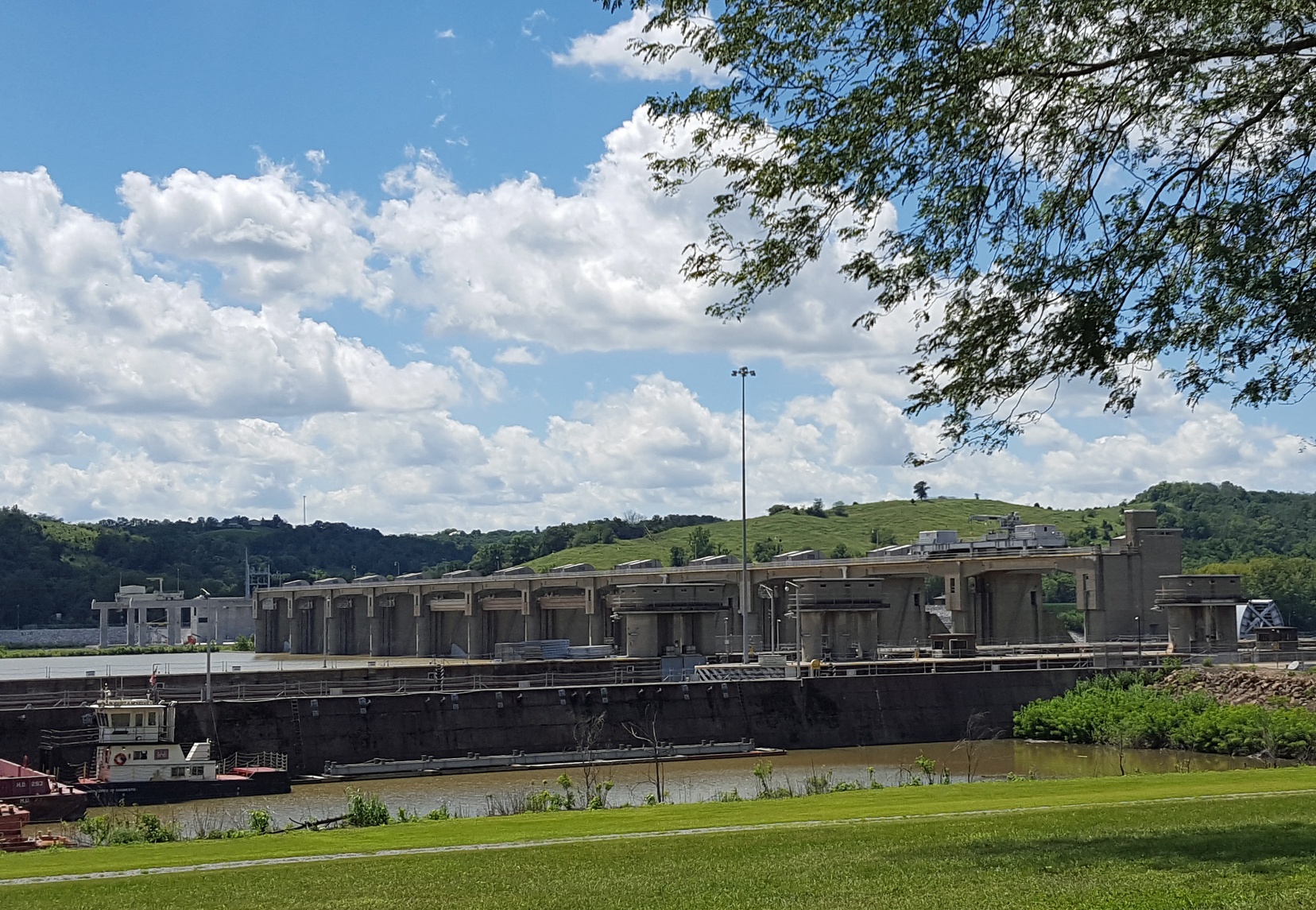 Captain Anthony Meldahl Locks & Dam
Power plants are a bit of a theme here
And we finish off with a bit of history: the birthplace of Civil War General Grant.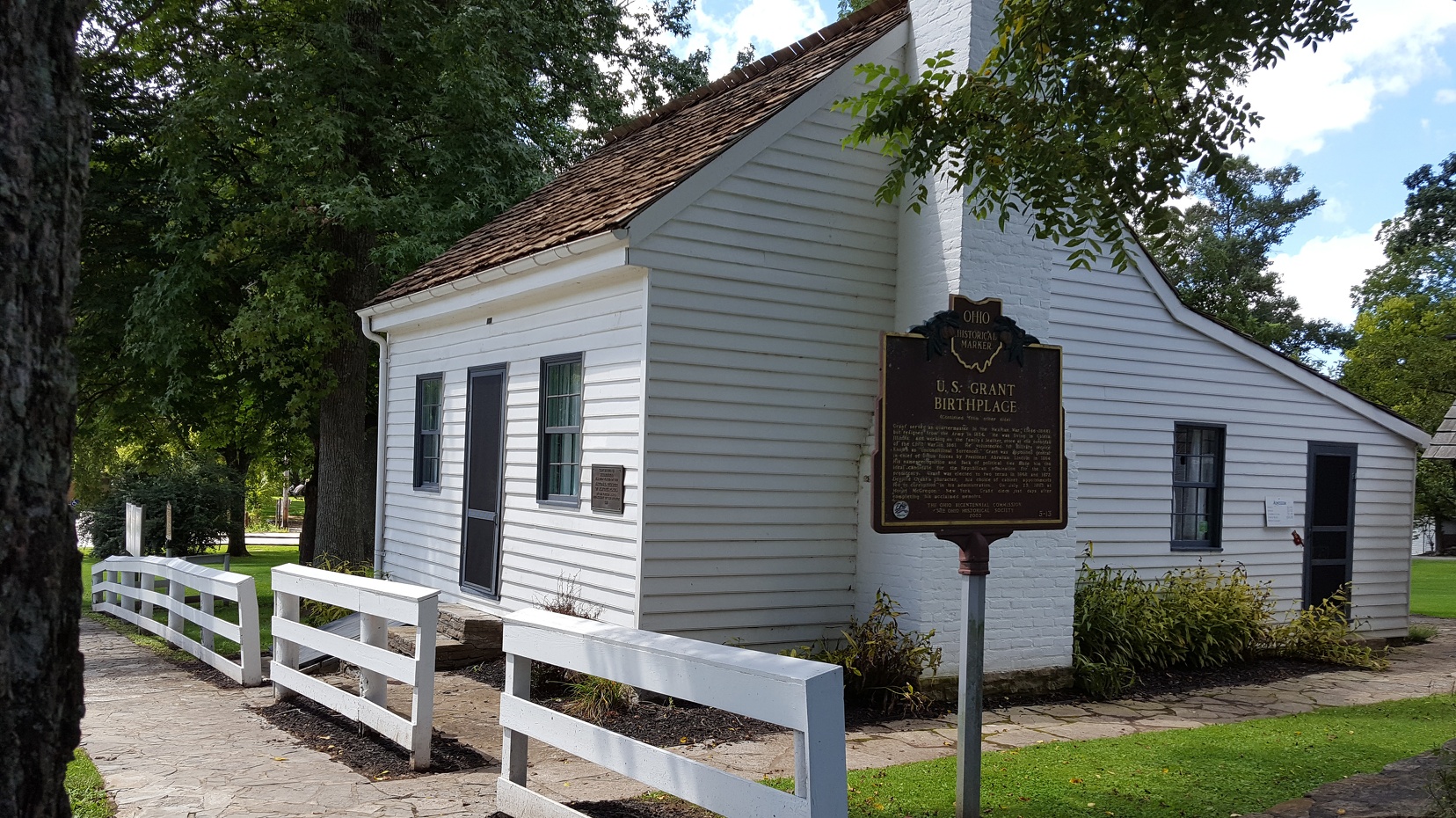 U.S. Grant Birthplace (building moved from nearby actual birthplace)
Ride #2: Highland County
A couple of weeks later and I decided to take a longer ride out to see Serpent Mound and the Highland County Nature Sanctuary.
Cincinnati to Serpent Mound and then Highlands Nature Sanctuary and back, about 100 miles driven counter-clockwise.
I drove out 32 through swarms of fellow motorcyclists on a beautiful day.  A dozen or so miles outside the 275 loop and their numbers decreased significantly, but still a lot folks out enjoying the end of summer.  My first stop was Serpent Mound, an American Indian created mound that looks like a snake with an egg in its mouth.  You can't see the entire thing except from the air or space (which raises its own set of questions) and it's a beautiful place to visit.
A few pictures from the viewing structure; an old metal staircase and platform about two stories tall (not shown: various visitors looking at platform and exclaiming, "NOPE!" before walking on by):
I'll throw in a self portrait!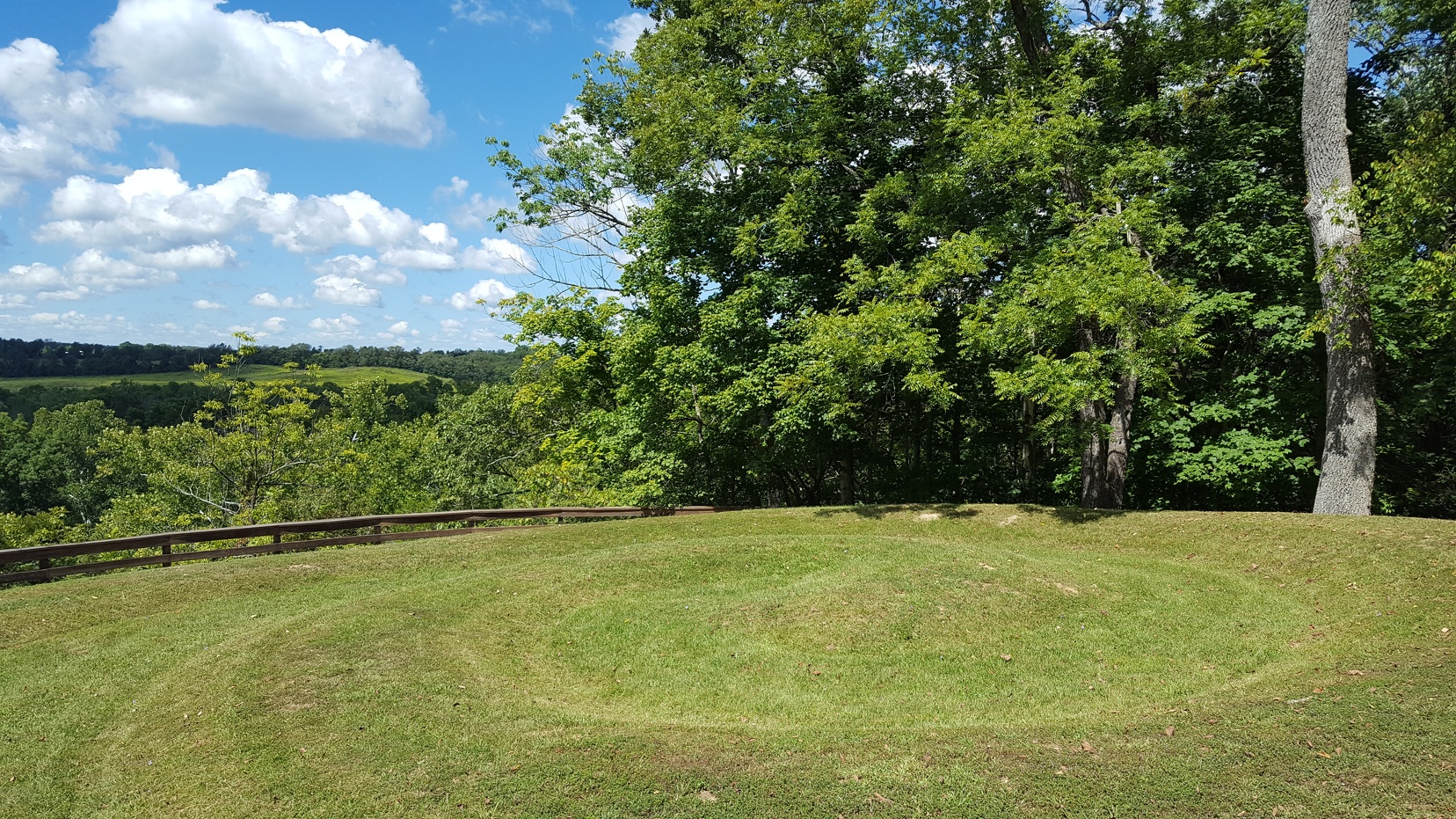 Serpent's Tail
The sign ends with, "Please do not walk or stand on this sacred mound."  Which we have surrounded with picnic tables and sewer access.
After Serpent Mound I headed northward towards the Highlands Nature Sanctuary.  This is the old 7 Caves area, you can't really explore the caves anymore but the scenery is wonderful.  There are only 3 short trails (each 1/2 a mile, I believe) and hiking along the gorge was beautiful.
The entire morning I'd had songs from Over the Rhine's latest album running through my head.  The two core members of the band moved out to Highland County a few years ago and the location has a strong presence on the album.  So it was fairly surreal to enounter Linford Detweiler hiking there.  I said hello and thanked him for his musical service and then wandered off to let him continue his day.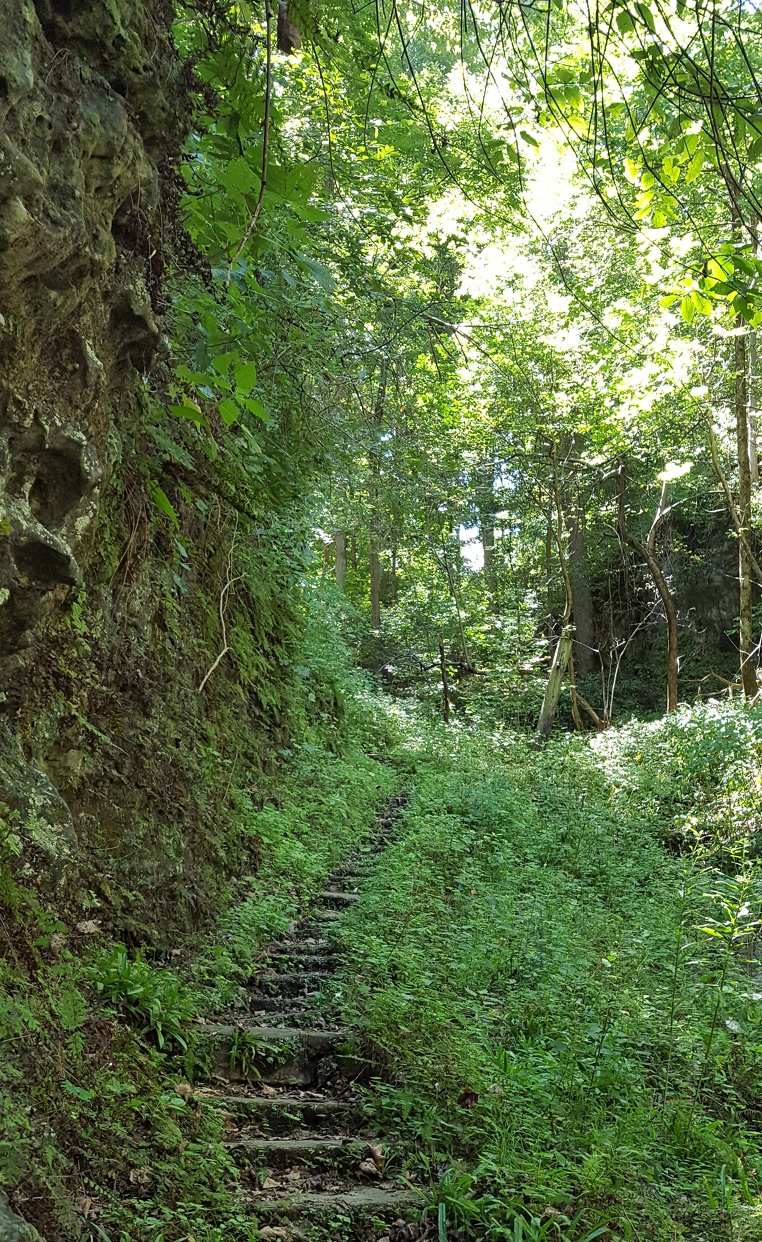 BUT I WANT TO GO!  Oh, well.  Let the bats have their peace.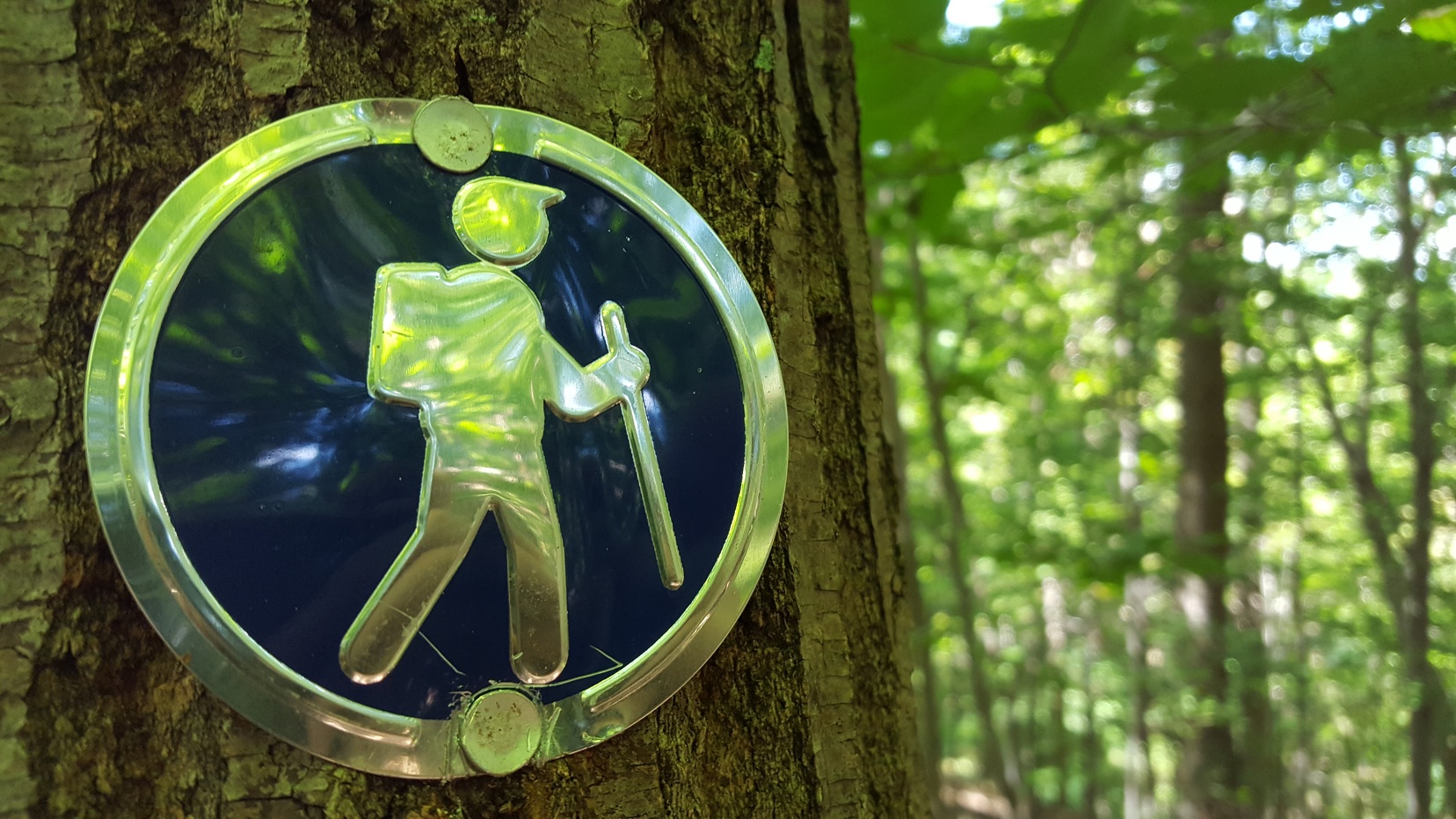 Danger: hikers with funny hats about.
Finally, since this is a theoretical ride report, a picture of my trusty steed appropriately signed:
Ride #3: Big Bone Lick
This past Sunday had perfect weather so I took a break from freaking out about going on a multi-month ride by going on a couple hour ride.  I headed south into Kentucky, watching the fences turn into the long picket fences I associate with heading south, and scootered into Big Bone Lick State Park.
Apparently the springs in the area bubble up through salt deposits in the limestone and produce waters that attracted things like woolly mammoths and bison and also preserved their bones pretty well when said animals fell into the bogs the area also produced.
This dramatic reenactment of what happens when large animals encounter a salty bog is also showing the slow process of decay. Jaunty father nearby, "Oh, let's see what this sign says! Well, it's certainly seen better days, hasn't it?"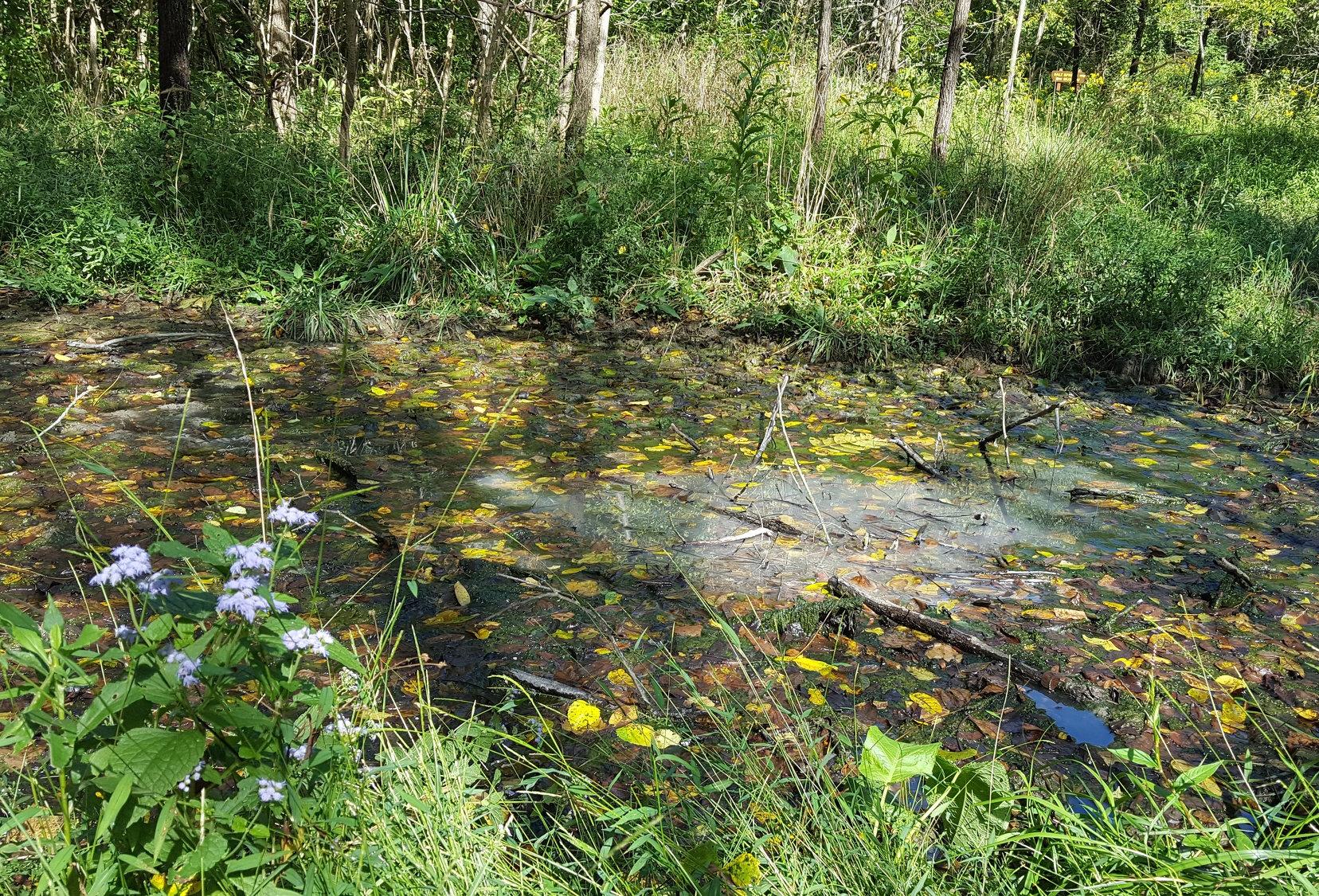 Salty Spring!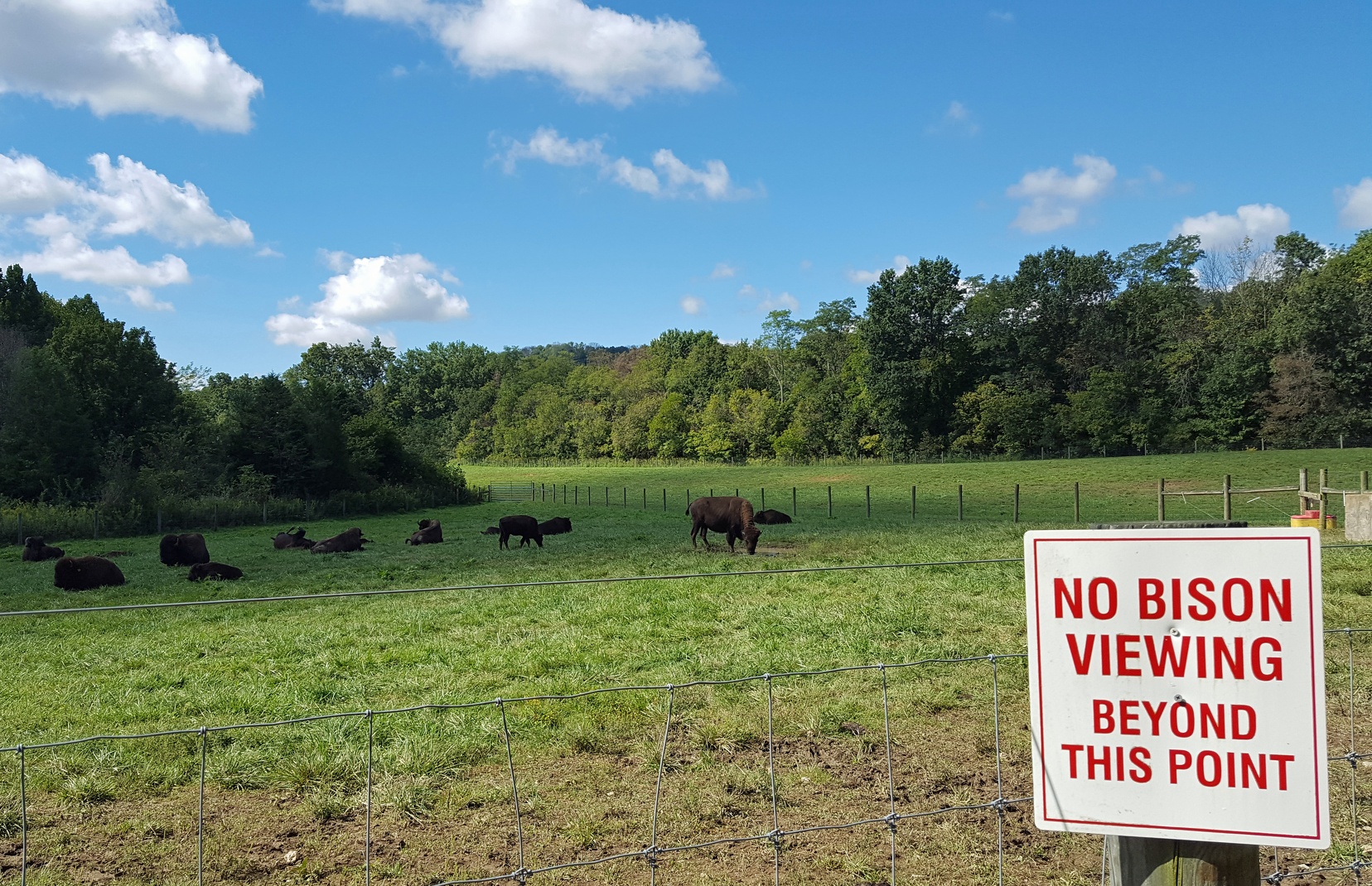 Bison are also raised here.  Memories of Kansas!
Since I was in the area, to Rabbit Hash!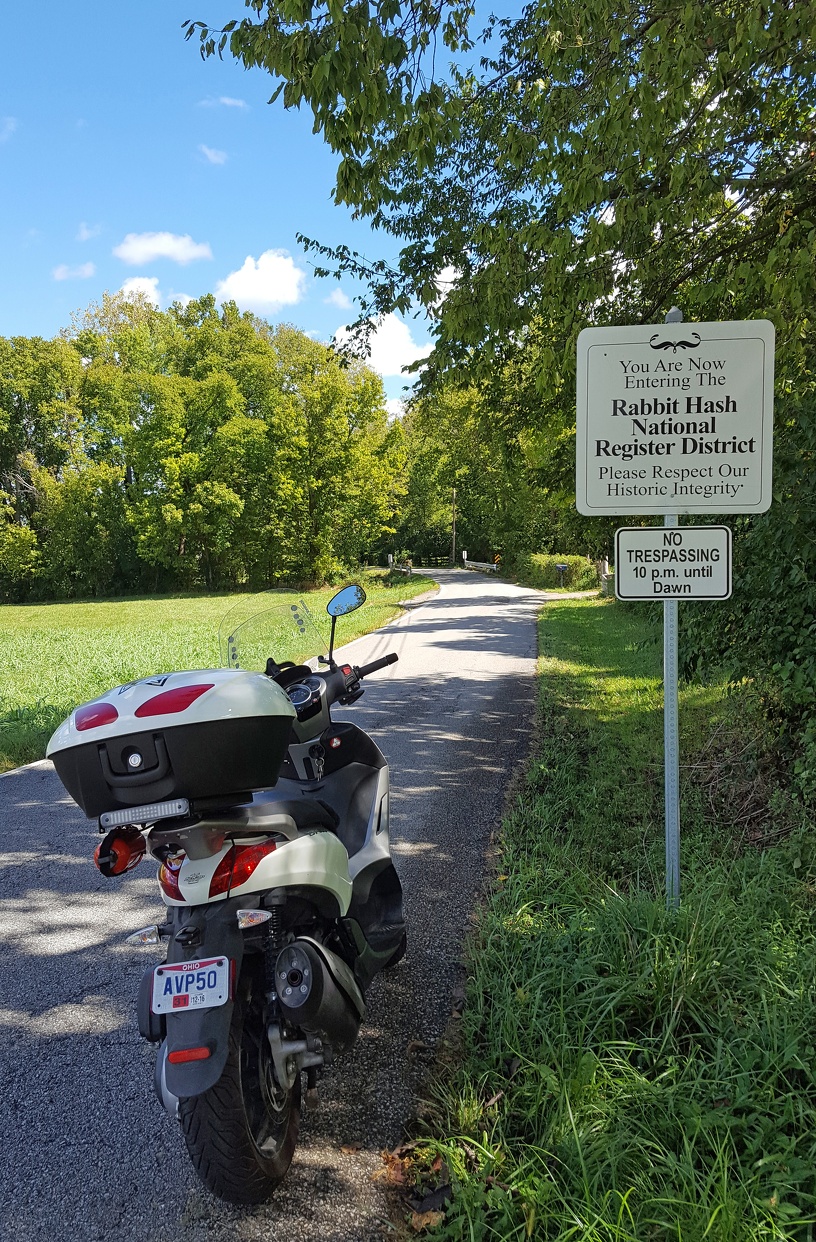 Rabbit Hash is an iconic local motorcycle destination, although I didn't stop at the actual area because it was crammed to the gills with bikes and bikers and I hate fun. Also the general store burned down earlier this year.  Was hoping I'd run across the mayor, as this town only elects canines to that position, but instead just had a beautiful view of the river and this sign. You get a picture of the sign.
Drove the winding back roads up along the Ohio River and back to Cincinnati.  As you round the bend you get this beautiful view of the city helpfully obscured by a scenic fence.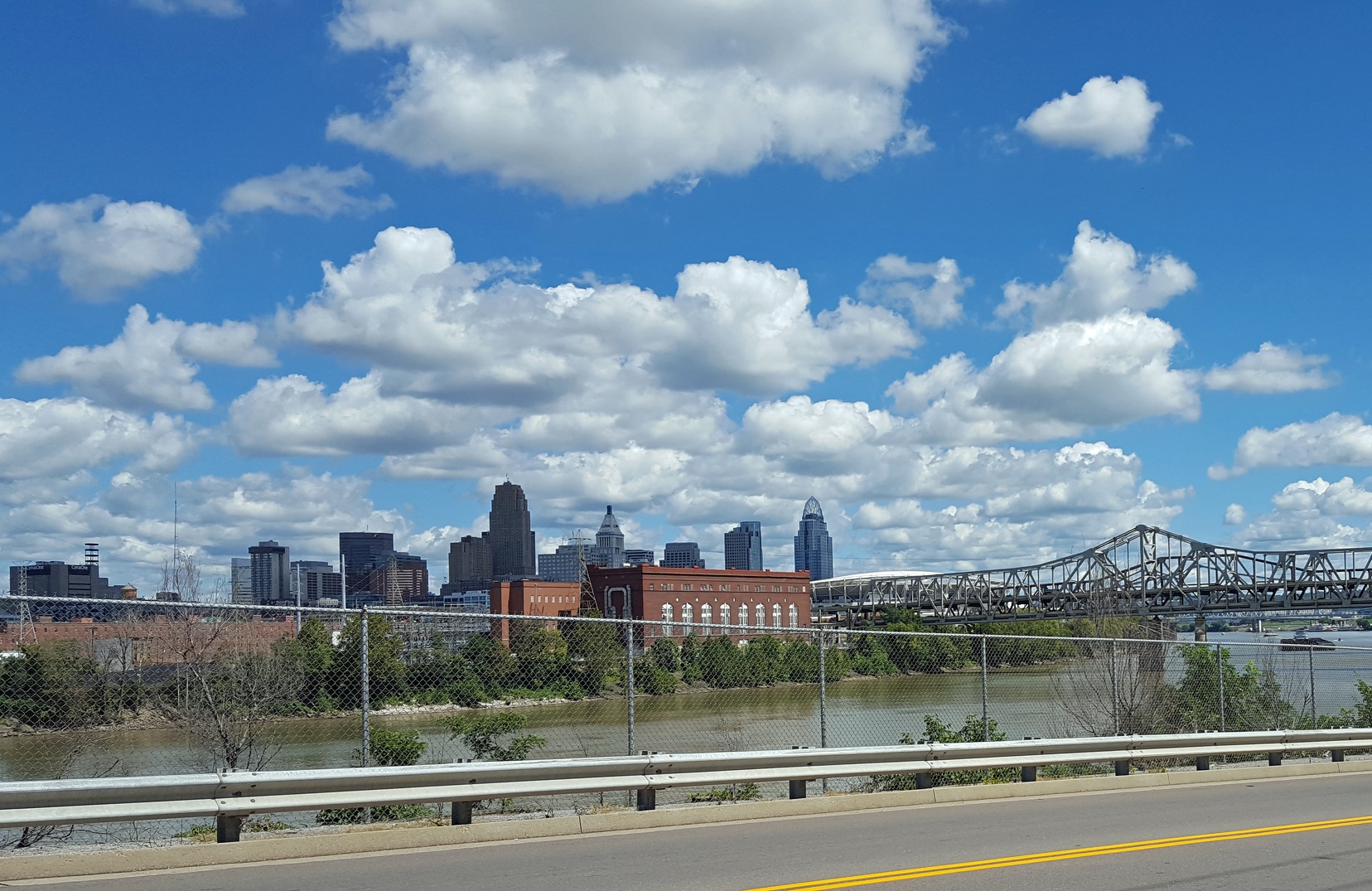 Because sometimes a guardrail just isn't enough.
Finally, a bonus picture from in Cincinnati itself.  That evening I drove out to visit "The Little White House in the Valley" which is the Worthmore factory's main office.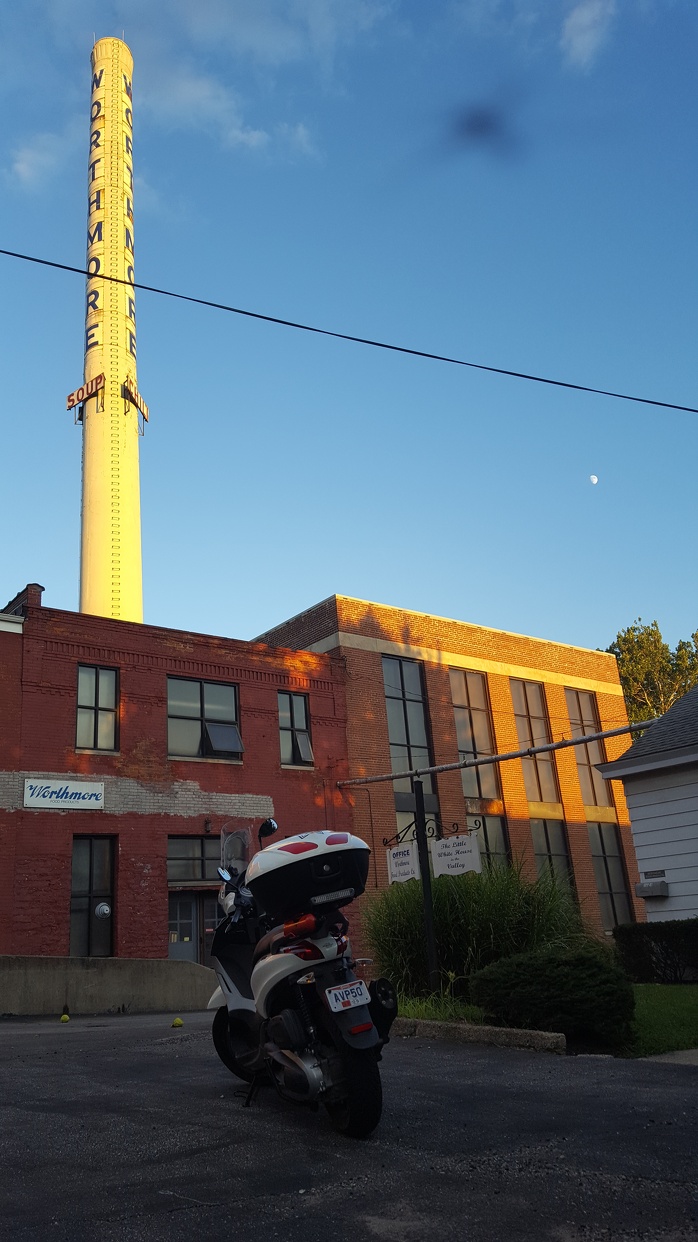 Not a great picture but it included a bonus bug and the moon, so I'm posting it anyways.
Cincinnati has a ton of amazing old buildings and architecture, definitely an interesting place to hang out.  It's been lovely being here and staying with my parents for a few weeks, a lovely start to what I hope is a great journey.