I woke up refreshed on Sunday morning and enjoyed the first Airbnb where the final "b" actually meant breakfast. My hosts recommended the train depot in downtown Cheyenne and the Terry Bison Ranch on my way to Denver.
I headed downtown, avoiding using the rear brake where possible (although it also controls a bit of the front brake due to how the linking works) and keeping an eye out for any other repercussions from the previous evening's center stand adventure.  The scooter felt good, and downtown was quiet as I arrived an hour before the depot opened so I had a chance to wander around a bit.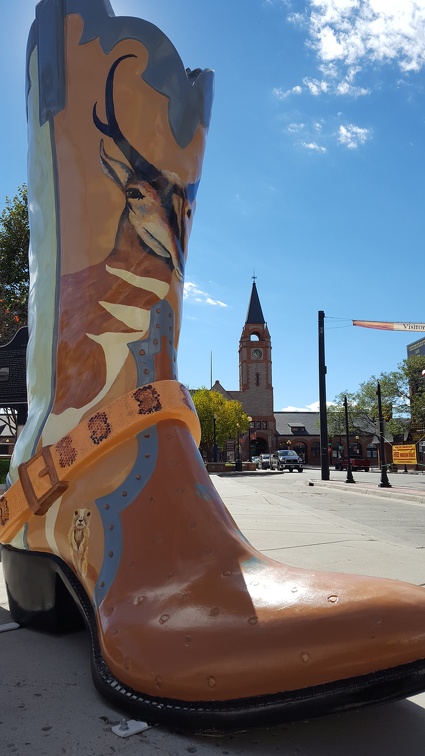 The train depot has a little museum, the first floor is a few rooms packed with paraphernalia and a couple of videos.  An old black and white one showed people hand making rail ties and talked about the Gandy dancers, it was fascinating and worth the price of admission.  I enjoyed reading about a city founded so fully by the railroads that still managed to get big enough to survive as the railroad economy changed.  Upstairs is a large toy train exhibit, which would have been more interesting if it was running.
After that it was time to start heading south, I took a wandering route through the suburbs of Cheyenne.  It doesn't take long for things to thin out, and then I was in a mixture of isolated suburbs and larger dusty plots.  About this time I heard that instantly recognizable sound of something metallic and likely important bouncing down the road.  Then the remaining half of my center stand dropped down and started to ricochet off the road.  I slowed and pulled off, only turning right for fear that the center stand could stick down and turn a left turn into a crash.  When I got things stopped, sure enough the right side had fully torn off, along with the spring that held the entire piece up.
The good news is that paracord did end up holding just fine until I got to Denver and eventually had the stand totally removed during maintenance (new one on order).  I missed the center stand when filling up, but I usually use the side stand for other stops; it seems more stable and you can settle the scooter down before dismounting.
That bit of adventure out of the way, I continued on and shortly arrived at Terry's Bison Ranch.  Not necessarily the kind of stop I'd usually make, but it was recommended and I'd encountered two bison in the previous few days near the roadway.  In Custer one was scratching itself on a nearby tree, ignoring the car of tourists parked 15′ away.  As I warily coasted up, the bison stopped, stood fully up and stared at me and my mini-bison sized scooter.  At which point I hit the gas, zipped around the car and took off.  So I was looking forward to seeing some up close without risk of being trampled.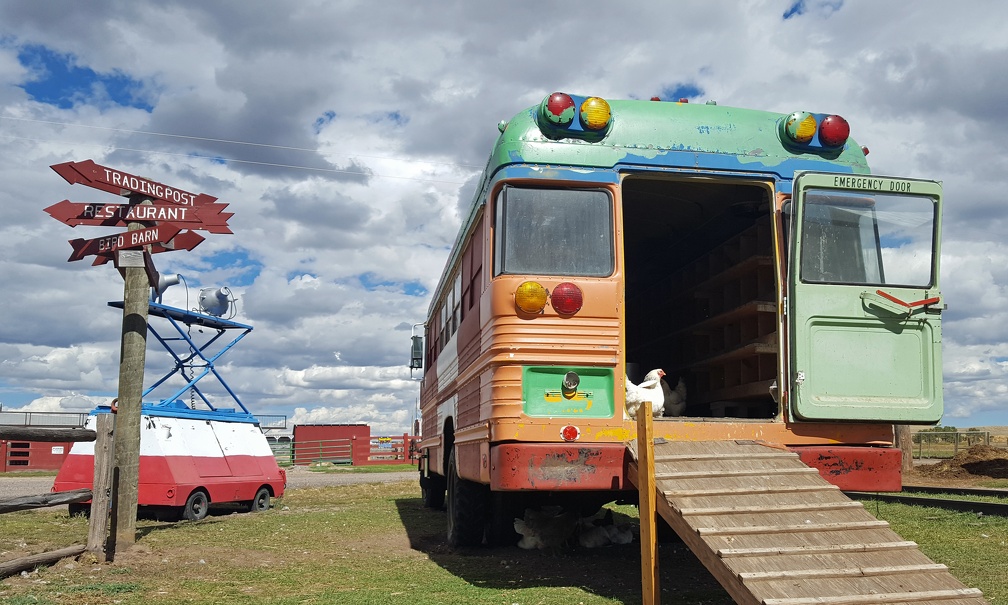 I had lunch at the bar waiting for the train ride out to the bison area to start.  They have around 3,000 bison here and a small herd of 30 or so are kept purely for this ride.  I ended up moving to the door to make way for another group to sit together, which was perfect because once we arrived people tossed crackers (big pellets) and potatoes out the windows and the driver opened the door for anyone who wanted to feed them more directly.  The driver's only request, "please promise me you won't fall out."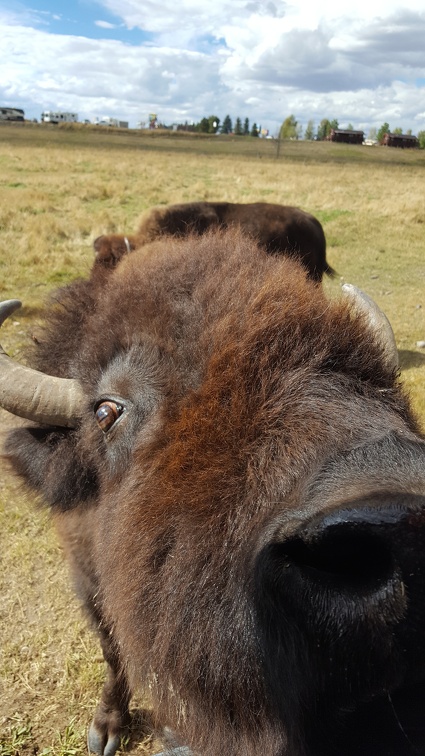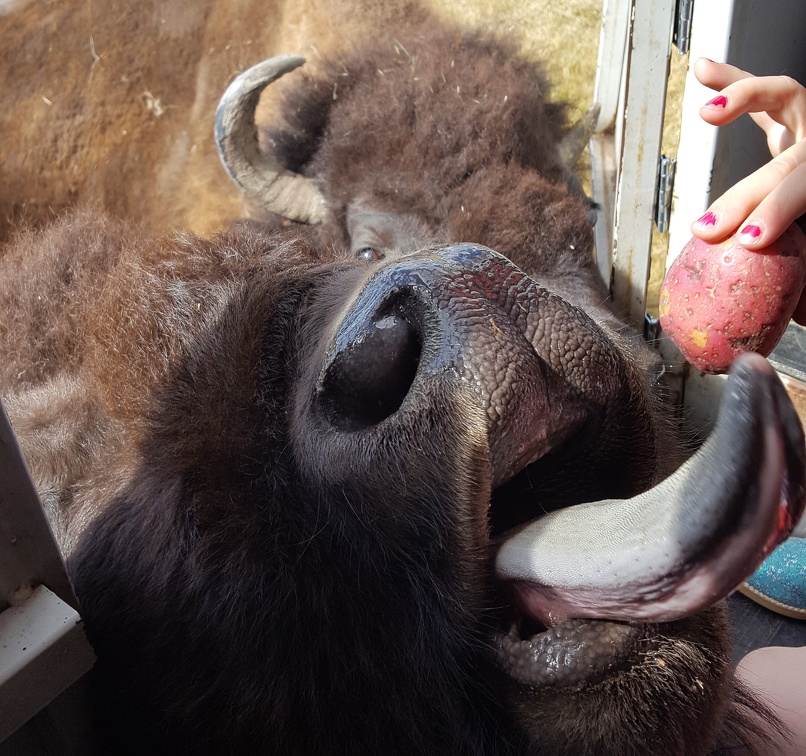 It was neat to see them up close and be able to get a better sense of their size, brushy fur and horns and general confirmation to not take any chances with future bison.
After that it was time to head to Denver, a close hour or two away down I-25.  Which Google really recommended.  I kept saying, "no, that's boring!" and it kept saying, "seriously, it's like the only big road."  When I found a gravel road heading the right way and took it anyways, my phone eventually gave up and recalculated me down 11 miles of lonely gravel frontage road and off I went.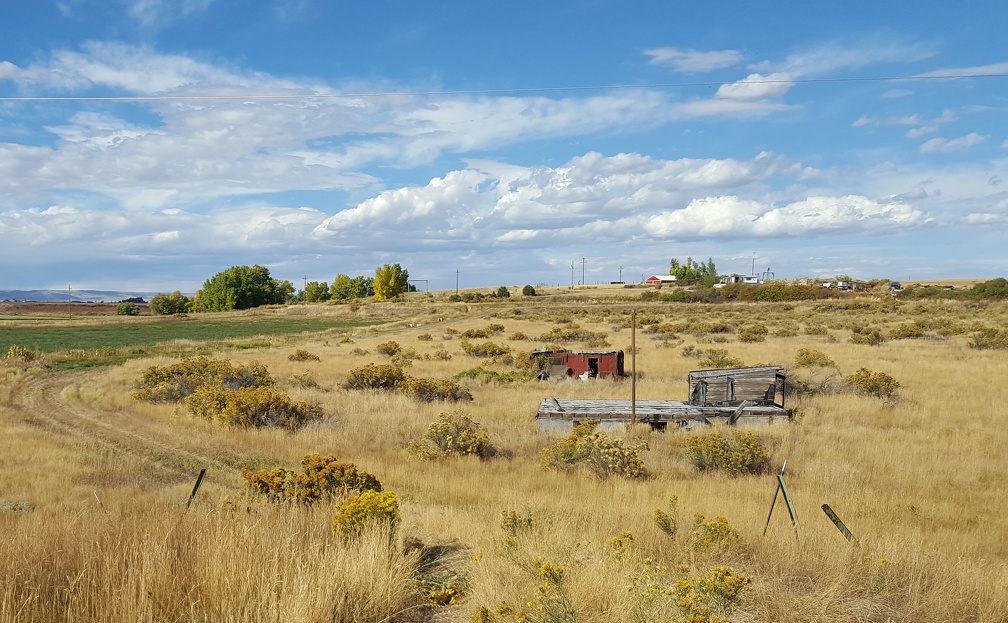 Even if you want to stick to asphalt, you can get off I-25 a couple of dozen miles south of Cheyenne and enjoy plenty of scenic riding.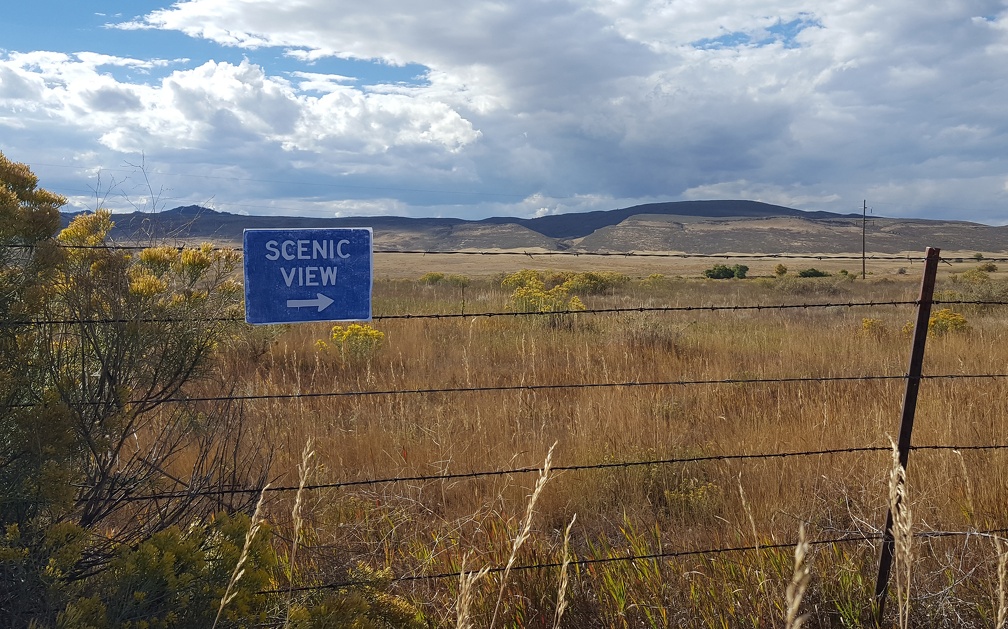 Eventually I rolled up to my friends' house in Denver and began a lovely stay.  They have beautiful gardens including vegetables in the back so our meal included amazing green beans and fresh tomatoes.  I'm very happy to be with old friends and looking forward to a lovely couple of weeks.