When last we left, I was sitting in a gas station in Sioux Falls, South Dakota.  I knew my destination was in the neighborhood just down the road, my waterlogged cell phone with directions had fizzled out, and it was still raining.  I rode into the subdivision thinking I had a vague idea of the street name and might remember the number.  Turns out there are two streets with the same name, one was a Lane and one a Place and both had addresses that could have been correct, and I was a bit fuzzy on the last digit anyways.  Also, each house had four units.  Blast.
Back to the gas station for me, this time I went in, ordered some Taco John's, which is like Taco Bell except not as smart.  My gear made a big puddle as I stripped off wet layers of armor and gave the few customers a show.  As I dried off and cleaned up a bit, I got out my laptop and figured out my destination.  I'd been close but now I knew the address exactly, and I spent an hour drying off before heading out.  By this point the rain had calmed to a light drizzle.
I arrived at the house and put my luggage beneath an eve so I could towel it off a bit.  The family hosting me had messaged me earlier saying that they would be out until late because they'd taken a road trip to a new state to, "buy a sweet Mustang!"  A decision that's difficult to argue with, and one that let me take off my gear and spend time trying to keep all the wet I was dragging in confined to a small, easily cleaned area without also trying to introduce myself, etc.  I spent a couple of hours drying things off, checking my cell phone (still dead), checking up what to do with a wet cell phone ("DON'T TURN IT ON TO SEE IF IT WORKS!"), and trying to figure out what to do.  The general advice seemed to be to leave the phone off while it dried out (use bag of rice or other drying material, etc.), so I decided tomorrow's ride would just be a straight shot up I-90 across South Dakota.  Easy, if boring.  I did some research into what cellphone to get next and generally sat around feeling annoyed for a few hours.
Eventually I gave that all up and headed out to tour the town.  I sketched out a paper map, noted a few different big crossroads in for when I inevitably saw something shiny and wandered away from my planned course.  First stop was Falls Park, which is a park built around the impressive set of rocky waterfalls right in the city.  The falls aren't that big, but there are a bunch of them and it's a lovely sight.  I'd post pictures but, you know, my camera is my cellphone.
I spent a while enjoying the view and mix of tourists and locals having a beautiful evening out.  Eventually I scooted off, saw the cute downtown and St. Joseph's Really Bloody Huge Cathedral and had a good time exploring.  It'd been a stressful day so it was nice to get out and relax a bit.  By the time I got back I had a message saying hosts would be back after midnight.  I shuffled off to bed early expecting to be up and possibly on the road before they woke up.
The next morning I rose at 6am and quietly started packing.  Except I heard noises outside, so I wandered out and sure enough my host family was up, dressed and preparing to head out.  I spent a few minutes speaking to the father, who in this case was both a parent and a leader of a local Christian congregation.  Their house was decorated with a lot of bible quotes, something that always makes me both curious and somewhat wary.
That's a statement worth clarifying.  I was raised in a loving, liberal, Quaker household and have continued to shape my beliefs and morals in a way that fits my understanding of Christianity.  Unfortunately this set of values is very different than what most modern American Christians appear to value and so I approach open displays of Christianity with caution.
I wandered out of my room, still groggy and curious how the morning would go.  They were all busily packing up to head out so we spent only a few minutes chatting and then the father asked if it'd be alright to say a blessing for me, which I was happy to accept.  I suspect our faith differs in a lot of ways, but it was a nice reminder of the presence of the many blessings in my life.
We all hustled out the door together, they drove off as I started packing, wearing a full set of still damp gear.  The sun was just coming up and it felt surprisingly cold.  I figured I must be far enough west for the large temperature swings between night and day to start occurring, and besides it was a bit windy.  I hadn't tried my cell phone yet, I figured I'd wait until later.  Hoping for the sun to warm me, I road out through a quiet city and started taking I-90 west.
The sun rose as I accelerated down the interstate.  The speed limit here is 80mph, something my scooter can handle as long as it's flat and there's not a big headwind.  There was a big headwind.  My body began to chill and instead of the wind calming with the morning it seemed to be getting worse.  And hour in I stopped at a gas station, filled up and then went inside for coffee and a stale donut.  When I changed out of my wet gloves and into my winter gloves my hands sung with joy.
There were a few folks milling about, in South Dakota it seems like anyone can open a casino so it's not uncommon to see them, like in this case, attached to the back of a gas station.  A rancher in layers of denim and flannel greeted me as we stared outside at the wind pushing signs and stoplights around.  We had what become a familiar conversation this day.
"Those winds sure are strong!  Does it help your gas mileage at all?"
"I'm headed west."
"Oh.  Well.  Be safe out there."
I never saw another motorcycle headed the same direction that day, and only a few headed the other way.  One waved madly at me as he passed, which I interpreted as a mixture of shared exuberance and stupidity.  Throughout the morning and early afternoon I kept the bike around 70mph, below the average car speed and passing or joined by trucks and RVs.  The wind never stopped, it was like riding with a giant kitten batting at me.  An arm tugged back.  My helmet yanked up and out.  The bike pushed in strange directions.  The scooter never complained, it never flagged, we crossed into grasslands, the colors faded into muted greens and browns.
Crossing a time zone gave me an hour, and it was around 1pm when I near Wall.  I'd been considering how to arrange my afternoon, and it was too early for check-in so I blasted by Wall and headed for Mount Rushmore.  It's a little over an hour away, and as I neared it the terrain got much more hilly and forests appeared.
I finally arrived at the next tourist trap: Mount Rushmore.  I hesitantly booted my phone back up and it joyously awoke!  It was a huge relief and seems to be working fine.  "Finally", you say, "some photos and not just blathering on!"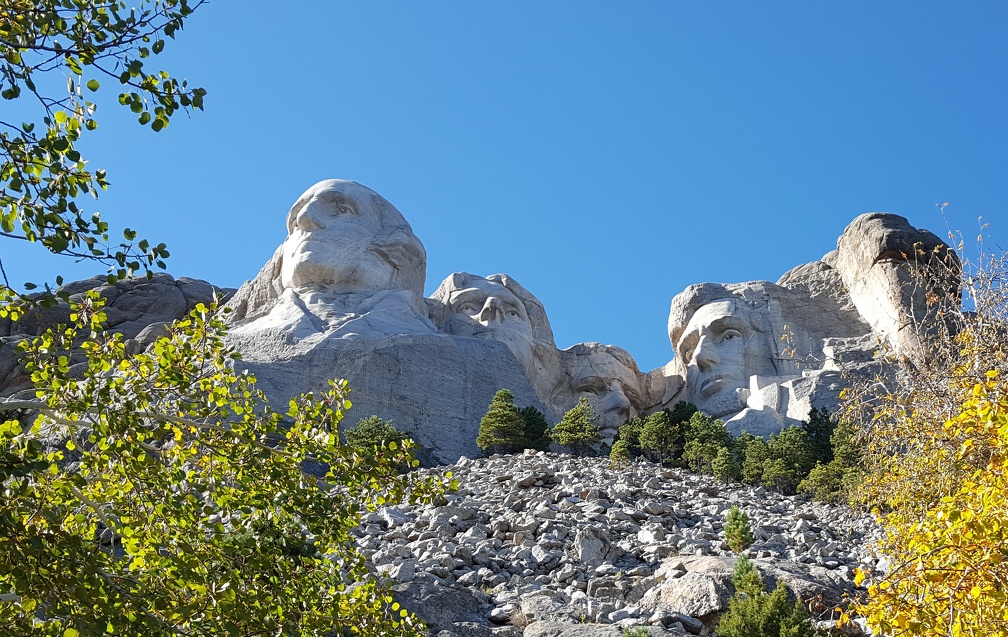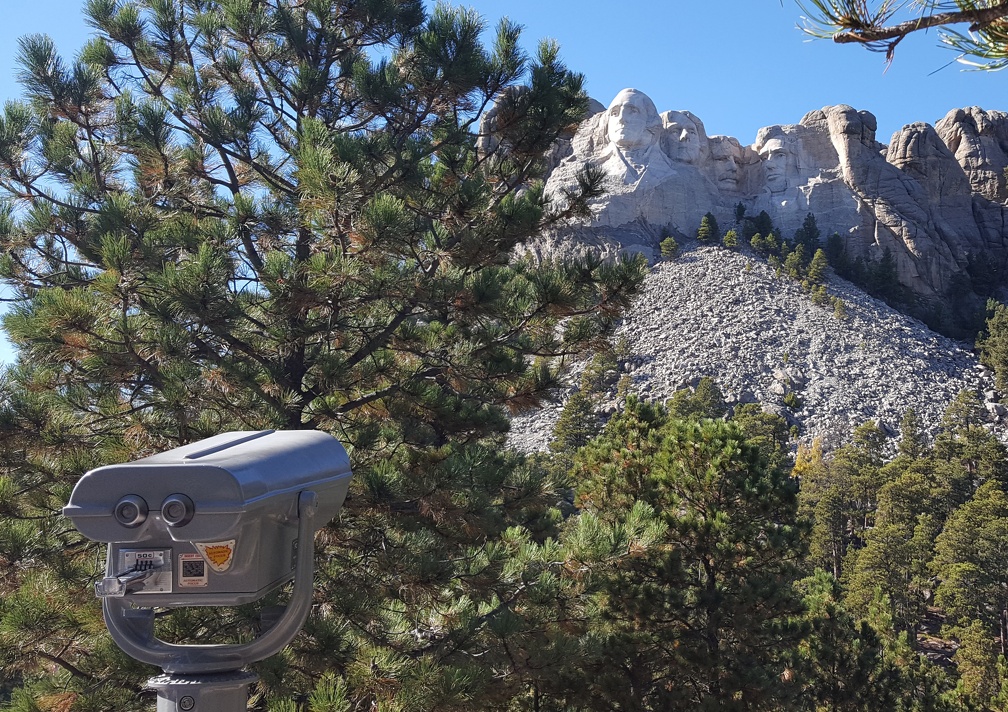 Mount Rushmore!  You come!  You see!  You, um, hike a short trail around so you can see up their noses better!  You buy some postcards!  You decide to get out of there!  You notice coolant fluid leaking from your scooter!
Seriously?  I just got my phone working and now this?  It wasn't much coolant, and it's not like I hadn't been flogging the poor little bike for the past six or seven hours, so I cursed a lot but then started riding back to the hotel, hoping I wasn't about to strand myself in the middle of nowhere South Dakota.  I kept a close eye on the temperature, but it didn't wiggle above normal as I rode back.
I checked in to the motel with some relief and the scooter hasn't leaked out any more coolant in the few days since.  It was a good reminder to call ahead and schedule a 12,000 maintenance when I'll be in Denver, so I did that and warned them there might be some issues.  I really like this scooter, but it has had a previous coolant leak in another spot (due to the cheap clamps Piaggio chooses to use).  The scooter needs coolant and oil that you can't get at normal auto stores, unlike my last (tiny) scooter which was simple and indestructible.  For now, the coolant doesn't seem to have leaked much, so I'll hope it holds out for another couple of weeks.
Until then, I was happy to unpack, relax and get ready to explore the Badlands.