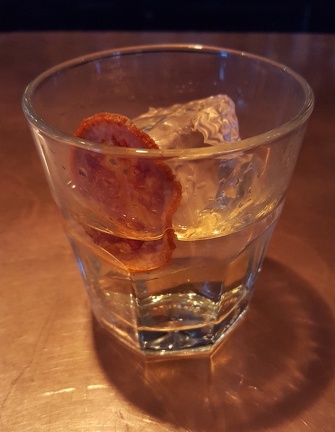 It was late afternoon when I arrived in Grand Junction, so I headed out to find myself a meal.  It looked like there might be a small downtown and, sure enough, they had a fun few blocks of shops and restaurants.  I had a surprisingly good time in Grand Junction.  I had no idea about the town before I showed up so it was a pleasant surprise.
Let's start with dinner at Bin 707 Foodbar: it was amazing.  I rolled in, tired and wondering if this cocktail bar was going to be like the one in Cheyenne (a city that felt similar although it was twice the size).  No!  I rolled up, asked for a negroni (the perfect pre-dinner drink after a dusty day) and was immediately asked back, "you want a classic, white or rum negroni?"  Oh, it was going to be a good night.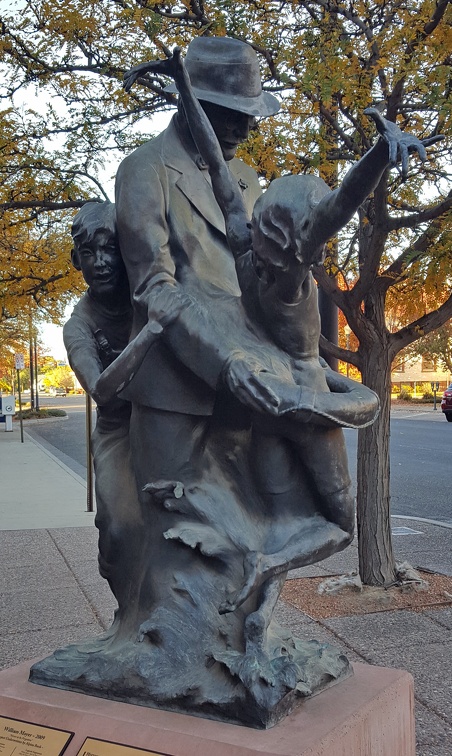 I asked for a classic version because I'm wary of people screwing up a magnificent thing, but then the bartender gave me crap about it until I tried their white one.  Is it as good as the classic?  Not quite.  Was it an impressive combination of bitters and dry vermouth that ended up hitting the same flavor profile just with slightly different notes?  Absolutely; I was glad I went with it.  They had an nice selection of regional and hard to find national spirits (I thought long and hard about having some of their Stagg) and were definitely interested and knowledgeable about their craft.  I could go on but let's just say the food was great and the second cocktail (bartender's choice: Boulevardier; safe based on my earlier selection) was also delicious.  If you're in Grand Junction: go there.
Grand Junction also has a lot of sculpture throughout its downtown.  The one to the right was outside the restaurant and commemorated a local philanthropist building a swimming pool to prevent a repeat of an earlier drowning in the river of a young boy.  The boy is the one on the left, reminding us that ecstasy (as described by the placard) and terror (as it appears in real life) look remarkably similar in person.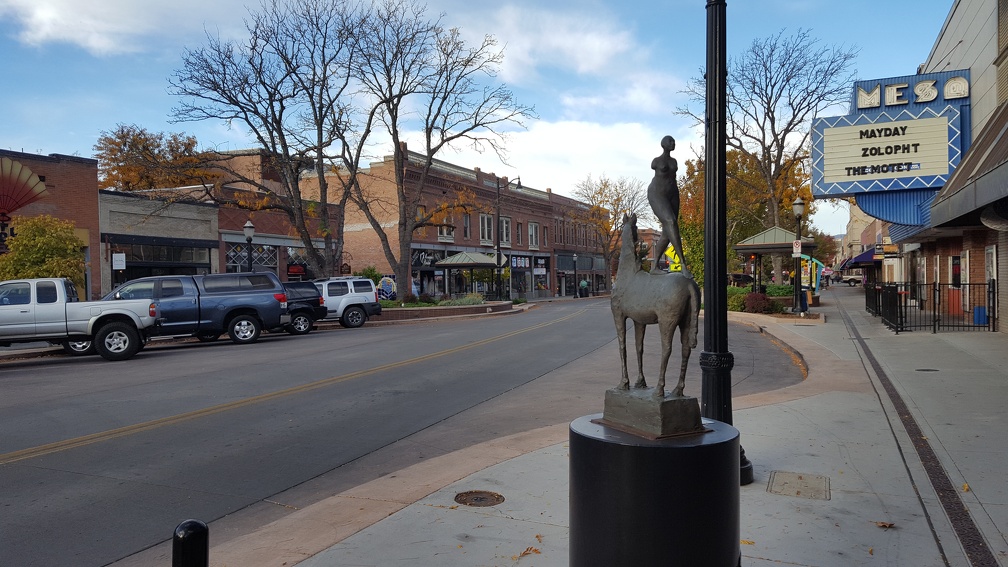 The downtown area actually reminded me a lot of Lawrence, Kansas.  Grand Junction had a lot more art scattered around, although Lawrence is headed in that direction, but it was a similar few blocks of fun shops and restaurants.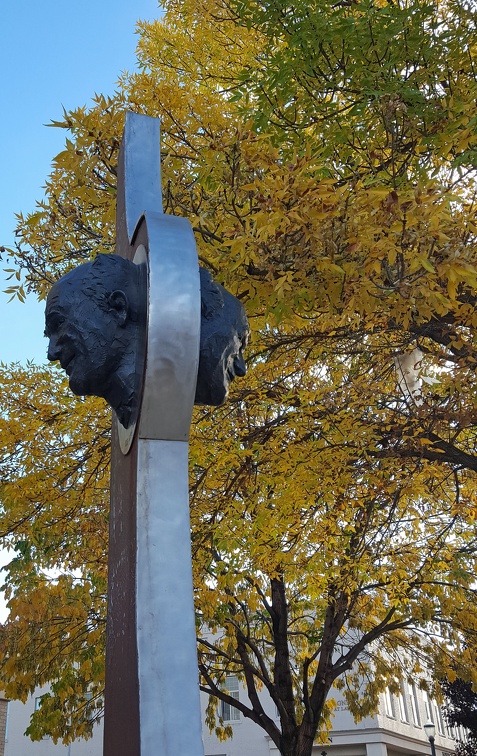 Grand Junction had also very slightly curved the street, snaking it through to reduce ease of car access and enhance pedestrian mobility.  Apparently this was done as part of a downtown rebuilding effort that took place a few decades ago to intentionally compete with suburban draw.
There was a little exhibit talking about this and the group that got together to do the redesign ("it even included a common housewife!").   Accompanying the description were busts of these fine individuals mounted in pairs on metal stands.  It's just as creepy as it sounds.
Anyhow: downtown Grand Junction was fun.  I'd totally go back there again and check it out more, it seemed like a nice place.  It's also right next to Colorado National Monument, which I explored on my way out and in the next post.