Saturday, November 19th – Sunday, November 20th
Saturday I did one last hike in Joshua Tree, the popular (for good reason) Ryan Mountain trail and then headed out and around the park, circling counter-clockwise until I arrived in Palm Springs.  The next day I happily high tailed it out of there and it was up through the mountains and into my destination for the next two weeks: Los Angeles.
Long time readers (um, like 7 years longer than this blog has been around) will recognize that tree!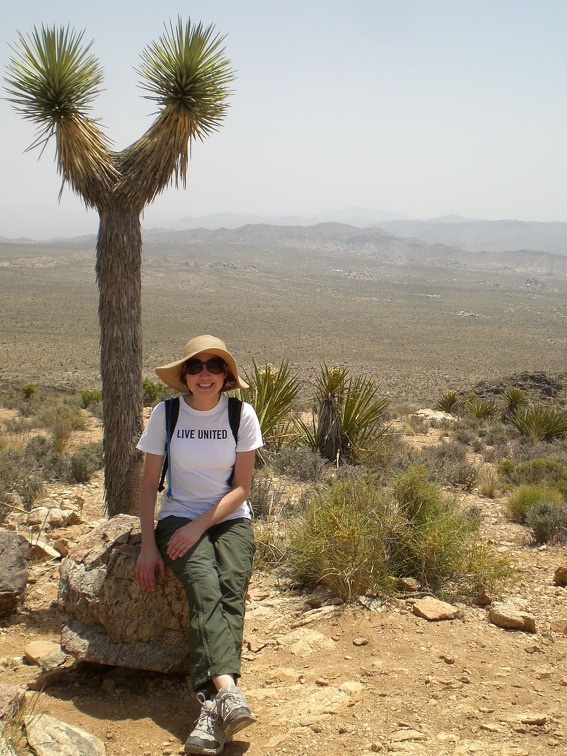 Alas, Christy couldn't join me on the hike this time, she's in a slightly more urban location at the moment.  There also wasn't a rattlesnake napping on the trail, so it was a different experience.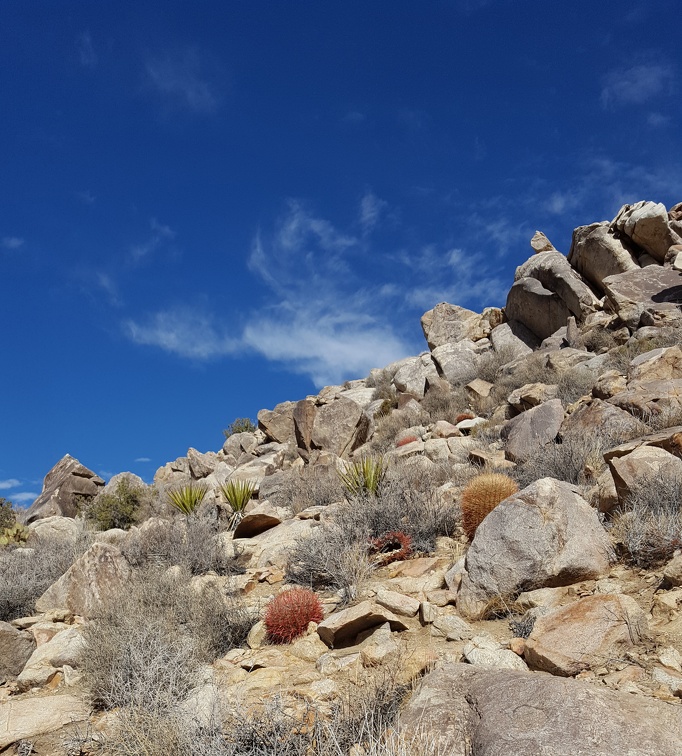 Ryan Mountain is a medium distance trail that gains a lot of elevation in its short ascent.  You end up with wide views of the valley and a lot of exhausted tourists (possibly including your narrator).  I arrived around 11am and the parking lot was filling up; by the time I was done there were multiple cars circling and waiting impatiently for me to put on my gear.  I wear a lot of gear.
After hiking Ryan Mountain it was off to Palm Springs (helpfully auto-corrected many times by my phone to Palmer Springs).  Palm Springs is trying to escape its reputation as a party town, but after 5pm on a Saturday everything is pretty much closed except bars and restaurants.  I did manage to catch a contemporary art show at an extension of the local art museum, zipping in half an hour before it closed.  No photos allowed though.
I walked the down road half a mile to dinner, passing a mostly deserted BBQ joint with "Congratulations President Trump" scrolling on its sign.   A few blocks later I was eating in a vegetarian friendly restaurant with Cher's goodbye tour playing on the TVs.  We live in a strangely divided country.
The next morning I headed out, wading through miles and miles of crowded shopping and resort areas.  As I neared my turnoff the number of fellow motorbikes increased sharply, always a good sign.  Sure enough, highway 74 is a super twisty, ridiculously fun road that thrashes through the mountains, looks back for a quick view of Palm Springs, and then veers west, exactly where I needed to go.
I had a longish drive to San Bernardino, in part because one of the roads I wanted to take was closed.  Eventually I ended up at Chaparral's Motorsport which is a massive store.  Iron Pony in Columbus is pretty big, but this place seemed bigger.  I needed a new "cruise control" (piece of plastic that holds the throttle open so you can relax your hand for a moment, last one got brittle and broke after a couple thousand miles) and was on the hunt for warm gloves.  I'd been thinking about getting some electric ones, I have a pair of battery powered electric gloves (they use lithium ion batteries, so they're not too bulky) but while the warmth provided is great, the gloves themselves are cloth and let so much air in the warming was useless on the bike.  Great for walking the dog, though!  They're in storage somewhere.  Also, the rechargeable batteries only last an hour or two, useless on a long ride.  So I ended up getting a set that you hook right into the bike's battery.  After some testing they're working pretty well; I don't have an fairing on this bike to cover my hands so keeping them warm when it gets at all cold out is tough.
I also had my eyes on a heated jacked lining, but held off since I wasn't sure how much power my light bar was pulling (I did end up contacting the manufacturer; if you have an Admore SMT light bar they say it pulls under an amp in full load) vs. what my scooter could provide.  I knew I'd be back this way in two weeks so started with the gloves.
Shopping completed I headed into sunny Los Angeles!  Which means I got on a highway which promptly stopped and it started raining.  This was apparently the first rain they'd had in a bit since it turned the roads to glass.  I was thankful for the heavy traffic because I was driving very gingerly until the oil and dust finally washed off.  It was a bit of a slog in, but after an hour or two I made it to my Airbnb, a tiny, dingy place but it matched my budget and was in Atwater Villager.  I also had trouble getting my usual room-in-someone's-house because it was Thansgiving, so had to go for likely-illegal-quasi-hotel.  The amazing tour guide Anne Elisabeth, whose advice on where to go and what to see in LA made up the vast majority of my activity the next two weeks, had recommended Atwater Village and it worked out great.  I really like to be able to walk to dinner and drinks (motorbike + alcohol > my stupidity threshold), and Atwater Village has a plethora of good places to choose from.
The rain had been constant but light, mostly a drizzle as I drove in and hauled my luggage up.  Shortly afterwards it started raining in earnest.  I counted myself lucky (again), and wandered out in it anyways to pick up the first of many fine Mexican meals at a local taco stand.  It's good to be back in Southern California.