Monday, November 7th – Wednesday, November 9th
The main part of Zion is the canyon and the series of trails through that.  I spent a few evenings checking out some of the other, surrounding areas.
My first night out I headed up to Kolob Canyon.  This is a much smaller part of the park in to the far North West.  I knew there was a 1 mile overlook trail there and was testing to see if I'd have the daylight to do a 5 mile trail.  Unfortunately this week contained multiple tragedies, including the end of Daylight Savings.  Losing an evening hour had a distinct negative effect on my ability to explore.
On the way back I stopped at a local cemetery to watch the sunset.  The Toquerville Cemetery is well cared for and worth visiting.  The cows nearby are lonely and easily entertained.  Always interesting to get a feel for when folks came to the area and how they are remembered
The next day I went the other way, heading into the South Eastern part of Zion.  Just after The Tunnel is the Canyon Overlook trail which is a fun little scramble.  If you can find parking (easier on a scooter!) it's worth doing.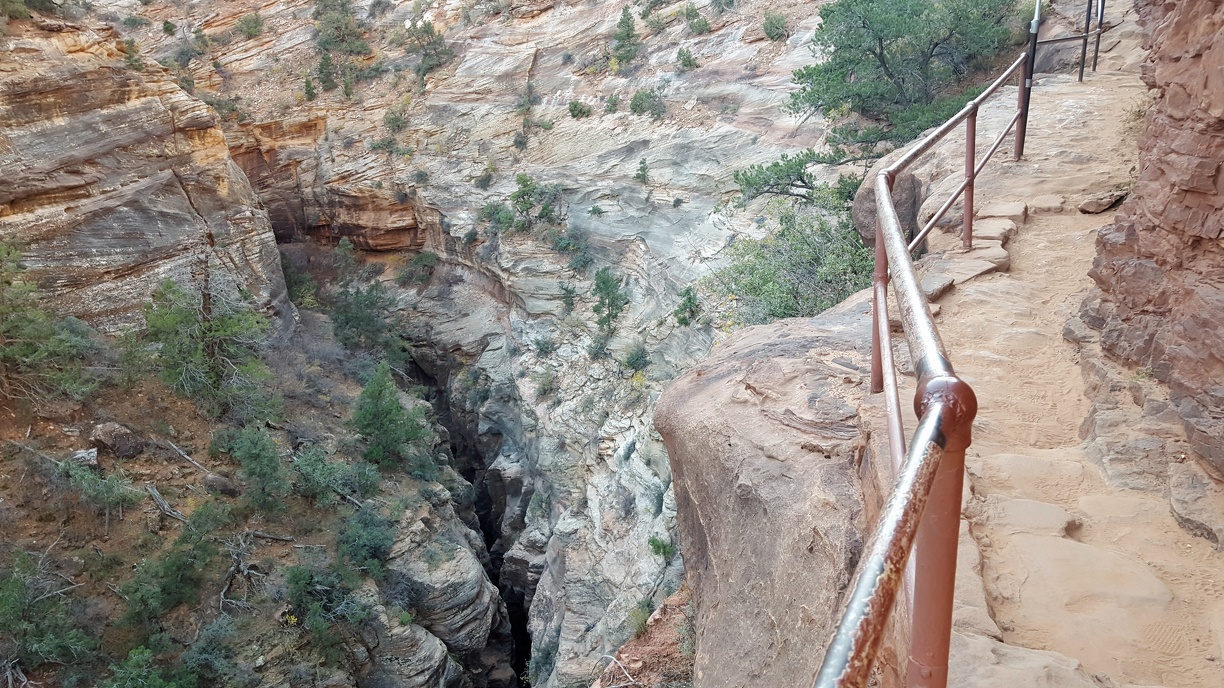 As you head further East there are many pull off areas for you to park your vehicle and go exploring over the slickrock.
I scootered back to my Airbnb to find my housemates all huddled around a swarm of computers.  A pair of Canadians were staying with us and, as I walked in, they immediately pounced, "CAN TRUMP WIN THE ELECTION?!?"  It was election night in America.  I took a look at the map and, at the time, only states which everyone expected to go one way or the other had been called.  I told them to wait until some meaningful states were tallied but that yes, given how close the race was Trump could totally win.  They clearly wanted to argue that not even the US would be that crazy.  The rest of the evening was spent with them gasping in horror as the next state was called and then apologizing for being openly appalled.  I broke out the bottle of rye I'd been saving and we attempted to dull the pain before heading off to bed early, all of us sad and wondering how this future came to be our present.
My third day I logged off from work and got out of town before I could think anymore.  I decided to drive up Kolob Terrace Road.  It's a long road that splits the park diagonally, actually veering in and out of the Western edge before diving across.
A nice way to say goodbye (for now!) to Zion Park.  I stayed in Hurricane another couple of days and spent that time exploring other parks in the vicinity.