Sunday, February 12th – Sunday, February 19th
Greetings from Jingdezhen, China!  I'm hanging out while my fabulous artist of a wife is making molds, sculptures, and other crazy things.  I'm (slowly) getting photos uploaded and sorted so I am going to try to get caught up on some posts in between exploring things here.  Now back to your regularly (un)scheduled blog…
I returned for a second week in Tucson.  This time I stayed closer to downtown in an Airbnb decorated from the leftovers of a chameleon themed art museum which the host had previously run (of course that's why I chose it!).  At least one NSFW photo of a chameleon ahead.  I live a strange life.
Monday afternoon I wandered a few blocks over to the colorful Barrio Historico (historic neighborhood) area.  People have painted their houses all kinds of fabulous colors, so it's a fun area to explore (mural above is from that general area, too).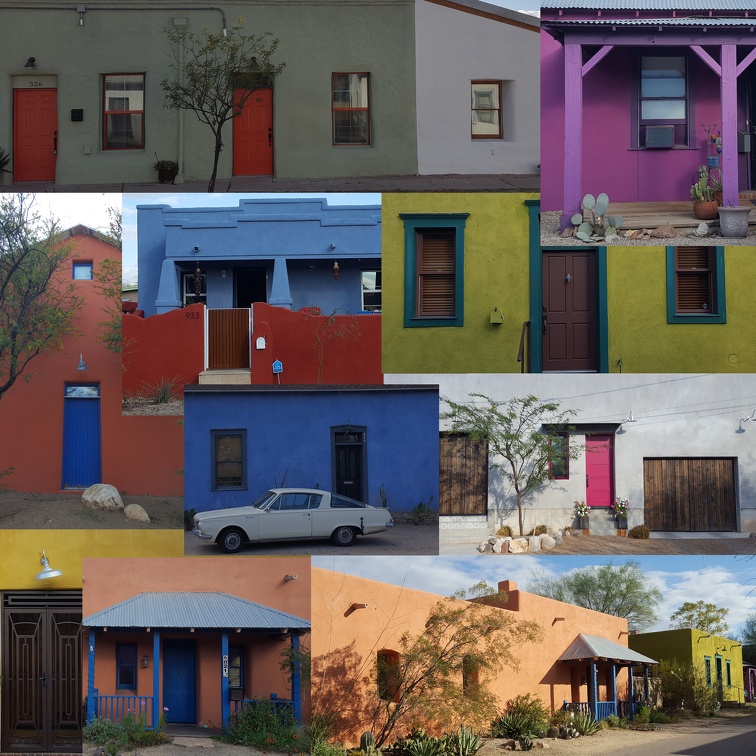 I also managed to snap a few photos of the not-as-historical house I was staying in, because I know you want pictures of random stuff featuring chameleons:
Last picture from the place is Zorro, the house dog.  He slept outside and was happy to keep me company whenever I was around and working during the day or lounging in the evening.  I didn't check if there was a chameleon on his collar, but even the outside of the house had sculptures and signs up.
Tuesday I decided to do a small hike and check out Big "A" Mountain / Sentinel Peak.  This is a hill you can see from downtown with a big white "A" on the side.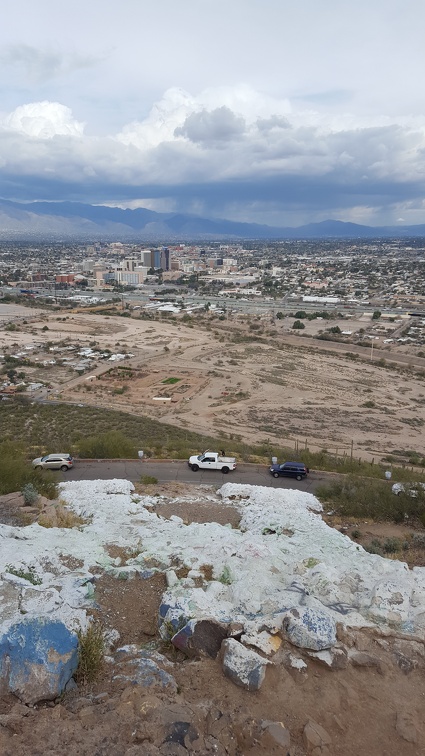 It's called Sentinel Peak from when guards would sit atop it to keep an eye out and then run down to warn the town if trouble was approaching.  There are some short trails at the top; easy hikes and neat views of Tucson sprawling all around.  On the way home I stopped by El Tiradito!
On Wednesday I headed downtown to walk the Turquoise Trail.  This is a neat, 2.5 mile path painted on the sidewalks and guides you through many of the historical spots downtown.  It's one of my favorite guides to a city I've seen.
There are signs discussing the ramifications of Mexico's war of independence from Spain.  This helped Tucson originally as local control increased but then funding for frontier forts went away and the Spanish policy of providing rations to the Apache in exchange for peace stopped.  Many Apache returned to raiding, devastating much of the european frontier.  Tucson's combination of presidio walls and the fact that the local Apaches (Apache Monso) remained as allies and defenders made it one of the only cities in the area.  By the 1830's it was just over half Apache, the peaceful combination of cultures is one of the fascinating parts of Tucson's history.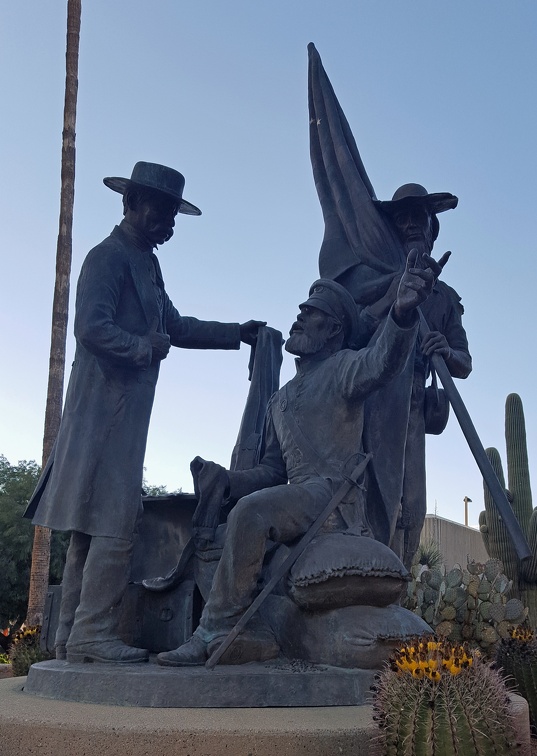 Thursday I wandered back downtown after dark, trying to catch a flamenco guitarist.  I caught him setting up for 45 minutes with the only end in sight being my cocktail, so I wandered off to explore on my own.
Some neon out back of Hotel Congress.
I ended up dining and sampling a locally brewery, hanging out with some locals and watching one of the Universities of Arizona basketball teams beat up on the competition.  On Friday I took the scooter up nearby Mt. Lemmon!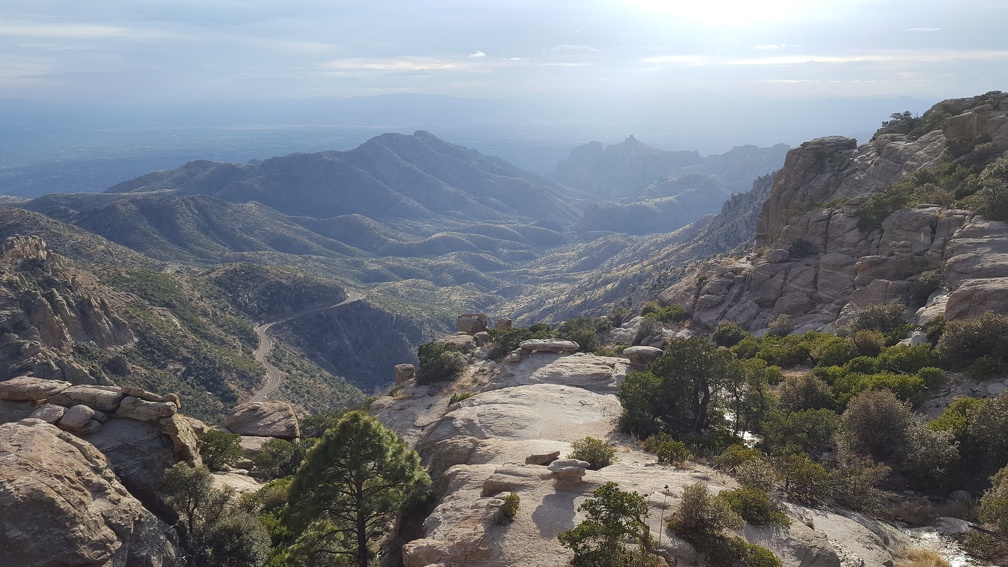 At some point I decided I was cold enough so pulled onto the shoulder, avoided more ice (there was a fair amount of snow up there) and headed back to the warmer valley.  I was near the observatory, one of the reasons that Tucson keeps itself relatively dark.
The next day was Saturday so I had time to do some exploring during the day.  I spent a fair amount of time getting ready for my upcoming trip to China, and in the afternoon I wanted to get out of the house and check out the Arizona History Museum on the University of Arizona's campus.  As I neared the parking garage something odd started to happen.
They had some great quilts up, here are a couple squares:
There is also a big room on mining, but the museum was closing by this point so I had to get out.  Fortunately the University of Arizona Museum of Art was just a few blocks away and open for another hour!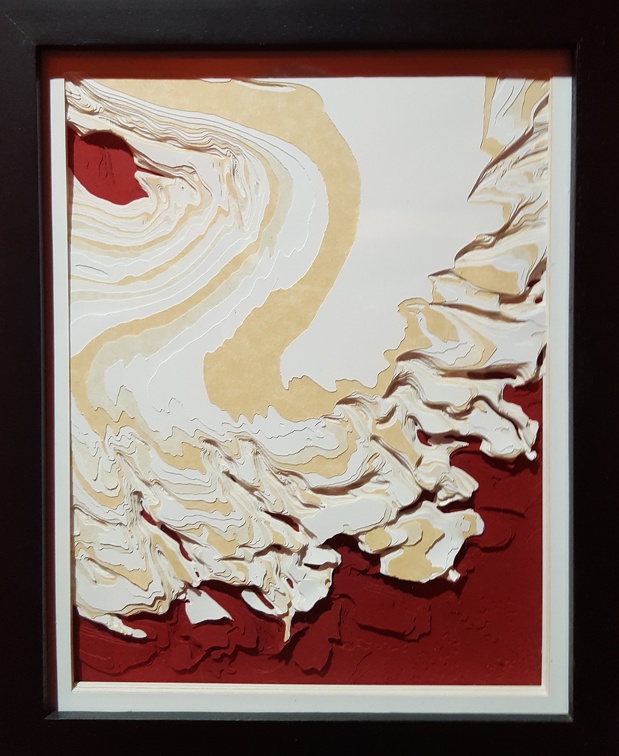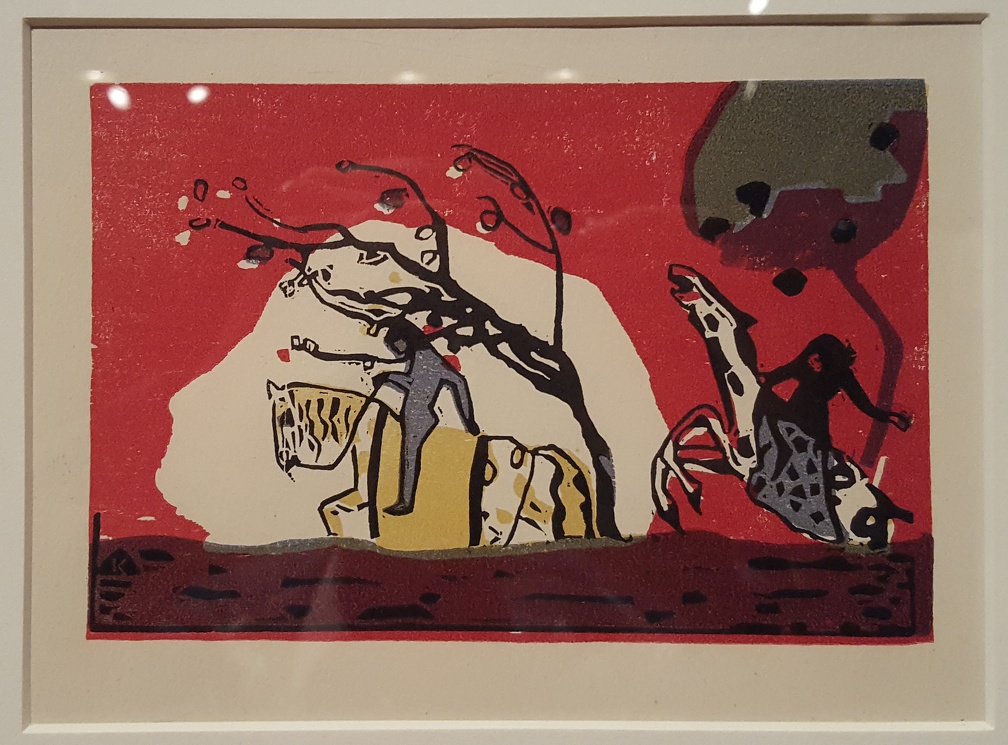 On Sunday I headed out, across the desert to an old home: San Diego.  Christy and I lived there for a handful of years and I was looking forward to being back.  It had been my original goal to get there around Christmas, but then I decided to scooter instead of fly back to Ohio and turned around when I hit LA.
The rainstorms were solid all morning, and continued through most of my drive, the clouds eventually dispersing as I entered California.
I thankfully shed my rain gear and some of my warm clothes and basked in the relative heat as the clouds became fewer and fewer.  Until I hit the mountains.  Then I spent two very long hours riding in the chilly mist, with visibility dropping and my teeth chattering.  I had forgotten how long it takes to get through the mountain range, and arrived in San Diego chilled, tired and open to a cold which I'd spend most of the next week getting over.  I was relieved to have made it home.